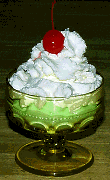 Click the photo to your left to cool off with montefin's low carb Mint Pistachio Pudding and Stevia Whipped Cream with a Cherry On Top.
And feel free to this page so you can easily return whenever you need a quick low carb appetizer, low carb main dish, low carb midnight snack, or a special low carb dessert.
The free low carb recipes to your right can help you lose weight on the South Beach Diet, the Atkins Diet, The Zone Diet, and other low or reduced carbohydrate diets. Recipes for people with Diabetes, and recipes for people with Attention Deficit Hyperactivity Disorder ( ADHD ), and others who need to control their blood sugar levels and/or eat gluten free are included.
Regulating carbohydrate intake to control obesity has been around at least since the 1860's. But the Low Carb Diet only gained wide spread popularity since the early 1970's with the publication of Dr. Atkins' Diet Revolution written by Dr. Robert C. Atkins, a New York City cardiologist.
Today's low carb diets are much easier thanks to a more liberal variety of food choices.
By the early 2000's, Dr. Atkins' low carb Diet Revolution had matured, gained wide acceptance, and received a good measure of clinical support -- not only overcoming obesity, but unexpectedly actually lowering cholesterol and triglycerides.
At the same time, low carb diet options opened even wider with the introduction of less restrictive, reduced carbohydrate regimens such as the South Beach Diet, the Glycemic Index diet, Sugar Busters, The Zone, etc.
Here at montefin.com, you'll find a recipe-driven, modified Atkins Diet tailored to keep you interested, motivated, and losing weight. And do take advantage of all the new low carb foods now available like Nutrition Facts labels, Glycemic Index Charts, Net Carbs, and a slew of ready-made foods like low carb bread, low carb tortillas, and, yes, low carb chocolate bars!
Among other online resources for detailed and definitive nutritional information visit The USDA National Nutrient Database for Standard Reference and nutritiondata.com. Use them to quickly get an authorative measure of a food's carbohydrate content, and all other significant nutritional constituents.
Next, you'll find a personal example of modifying a low carb regimen to one's individual needs...
Tell a friend about this site
montefin.com is an information, education, and meal preparation resource. Always consult a physician for specific applicability of any dietary regimen or information to your health, medical conditions, and therapies.