montefin's Turkey Cacciatore
On a bed of Spinach Recipe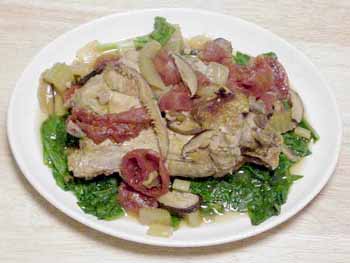 Ingredients
2 Tbs. - Olive Oil
1 - 14.5 oz. Can Italian Stewed Tomato Slices
2 - large Turkey Drumettes
3 - Shitaki Mushrooms (fresh or rehydrated)
2 - large stalks Celery, sliced into 1" pieces
4 - small Shallots, sliced
2 - large cloves Garlic, sliced thin along long axis
2 Cups - Fresh Spinach -- stems removed, leaves washed, stacked, rolled, and sliced into 1/2" wide ribbons (called chiffonade)
2 Tbls - Butter, broken into several pieces
Feel free to , so you can easily return whenever you want to make this.
---
Heat Olive Oilover medium heat in a large sauce pan and brown Turkey Drumettes.

Add Celery, Garlic, Shallots, Mushrooms, and Tomatos.

Cover, lower heat, and simmer for 30 minutes.

Uncover and remove Drumettes to warmed serving platter.

Raise heat under sauce pan, add 1/2 cup water to boil, and stir in Spinach ribbons and Butter pieces. Remove from heat, stir and pour over Drumettes.

Serve.

Note: Any dish incorporating spinach can be termed Florentine.

About 5 Carbohydrate grams per serving.

Tell a friend about this site.