montefin's Veal Piccata Recipe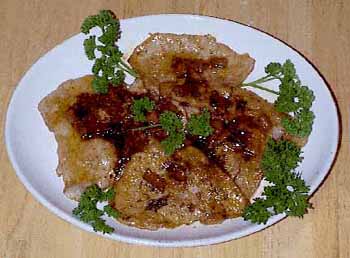 Ingredients
4 pieces - Veal, sliced from the leg for scallopini, about 3/8" thick, each about the size of your palm.
3 Tbls - Low Carb Bake Mix
Juice of 2 Lemons
2 Tbls - Capers (optional)
1/4 Cup - Dry White Wine
1 stick - Unsalted Butter
Parsley to garnish
Feel free to , so you can easily return whenever you want to make this.
---
Pre-heat oven to 200° F., and set two serving plates in there to warm.

Gently, but insistently, pound the Veal slices two at a time, between sheets ofwax paper (or plastic wrap) with the flat of a large chef's knife or smooth meat pounder until they are 1/8 inch thin.

Dredge veal slices in Low Carb Bake Mix. Shake off excess bake mix and set aside.

Warm 2 serving plates in the pre-warmed oven.

Melt 1/2 stick Butter in a 10" to 12" skillet over medium heat until froth dies down. Add 2 slices of veal to the hot butter. When edges of veal start to whiten, turn and cook 2 minutes more. Pour in 1/2 of the White Wine, and swirl skillet so the veal slices stir the wine and butter. Waft the vapor coming off the skillet, and when the wine scent stops tingling your nose (about 30 seconds), pour in 1/2 of the Lemon Juice.Turn up heat and swirl for about 20 seconds more.

TSlide the veal onto one of the warmed plates. Scrape out as much of the sauce from the skillet as possible onto the veal. Tuck the plate back into the oven.

Quickly, repeat the last 2 paragraphs above for the second serving, which typically will be browner and nuttier in flavor due to the rich browning of the butter (called Beurre Noisette in French). You might want to serve one of each batch on the finished plates.

Garnish with Parsley. Serve.

Many people like to add a handful of Capers to the pan sauce just before adding the lemon juice. After about the 10th time I made this dish, I skipped the capers and never went back.

Less than 9 Carbohydrate grams per serving.

Tell a friend about this site.

---