montefin's Mexican Quesadilla
(KAY-sah-dee-yah)
a.k.a. Cheese Crisp, or Mexican Pizza Recipe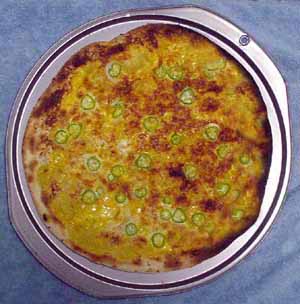 Ingredients
1 Burrito Size - Low Carb Tortilla, (Mission makes a good one.)
1 Cup - coarse grated, yellow Cheddar Cheese (Mild, Medium, or Sharp)
1/2 Cup - finely grated Cotija Cheese
1 - 2" to 3" - Serrano Chile, sliced thin
Feel free to , so you can easily return whenever you want to make this.
---
Pre-heat oven broiler.

Place the Burrito size Tortilla on a pizza pan.

Spread coarse grated yellow Cheddar from the center out to 1/2" from edge.

Sprinkle finely grated white Cotija cheese on top of the Cheddar.

Distribute the slices of Serrano chile over the cheese.

Broil until cheese is rapidly bubbling and the exposed perimeter has darkened. This gives the cheese a crisp bite that makes a great, spicy midnight snack.

About 6 Carbohydrate grams per serving.

Tell a friend about this site.