montefin's Bison Meat Buffalo Burgers Recipe
Bison meat has a lot of flavor so forget the ketchup and melted cheese. That said, the simple addition of diced butter to the bison meat doesn't quite tame the beast -- more like sophisticates it.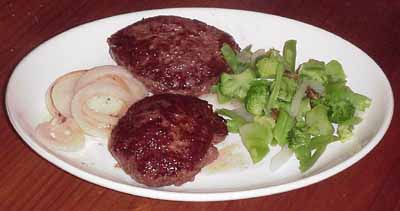 Ingredients
1 Lb. - very cold Ground Bison Buffalo Meat
2 pats - very cold Butter, finely diced
2 Tbs Canola Oil
2 slices Onion
1 Cup Asian Mix Frozen Vegetables (green beans, broccoli, onions, mushrooms)
Salt and Pepper to taste.
Feel free to , so you can easily return whenever you want to make this.
---
Heat Canola Oil in skillet

Mix diced Butter into, Ground Bison Buffalo Meat,and form into two large or four medium sized burgers.

Flip burgers after 4 minutes. Saute another 2 minutes then add Onion slices and continue cooking to desired doneness.

Microwave Asian blend Veggies for 2 minutes.

Serve.

Less 3 Carbohydrate grams per serving.

Tell a friend about this site.