Blueberries Protect Your Brain From Stroke Damage
---
Cinnamon Can Reduce Cholesterol, Help Diabetes
---
Curry Spice Turmeric May Slow, Reverse Alzheimer's
---
Mom used to call this most flavorful cut of beef
Steak Charles, but it was so familiar at our house,
we just called it Chuck. -- montefin, 2004
montefin's Original Low Carb
Tex-Mex Beef & Black Bean
Chili Con Carne Asada Recipe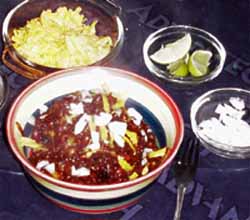 Where else are you gonna find three of the New World's classic flavors - Tex-Mex spiciness, stick-to-the-ribs Black Bean Chili, and hot-off-the-grill Carne Asada -- all rolled into a one bowl, low carb, high fiber, quick, hearty, deeply satisfying meal?
Ingredients
2 lbs. thinly sliced (1/8") boned beef chuck (ask for diezmillo in Hispanic markets)
1 Tbls olive or canola oil (or 1 Tbls lard, suet, or bacon drippings if you're into that)
2 dried ancho chile peppers
2 dried guajillo chile peppers
2 2" red (if available) jalepeno pepper, chopped.
1 3" white onion, diced (reserve about 4 Tbls for garnish)
2 cloves garlic, peeled, crushed, and diced
1 15 oz. can of Eden Organic Black Soy Beans
2 Tsp oregano
2 Tsp cumin seeds, crushed
2 Tsp Canela (Ground Cinnamon* available in Hispanic groceries)
1/2 Tsp ground coriander
Salt to taste
Coarse ground black pepper to taste
1 - 8 oz. can of tomato sauce
Lime wedges, chopped white onion, and shredded Cheddar and/or crumbled Cotija cheese for garnish
Feel free to , so you can easily return whenever you want to make this.
---
Fire up the charcoal or gas grill and toast the dried ancho and guajillo chiles lightly on it as it's heating up.

Remove the chiles from the grill, break them into pieces, discarding stems and seeds. Soak the pieces in hot water for about 20 minutes then puree to a smooth paste in a blender.

Heat a 5 quart sauce pan over medium heat then add the canola oil. When a piece of the onion sizzles in the oil, add the pureed ancho and guajillo paste, the chopped jalepeno, onion and garlic, Sautée gently until onion is translucent.

Add the black soy beans, liquid and all. Add the oregano, crushed cumin seeds, salt, black pepper, and cinnamon.

Lower the heat under the sauce pan. Add the tomato sauce, and simmer for 15 minutes.

Toss the very thin steaks on the very hot grill. You want crisp and seared, not burned. Figure 1, max 1 1/2 minutes per side. Remove the steaks from the grill to a cutting surface. Cut across the grain, then roughly chop across in the other direction.

Add the steak pieces, juices and all, for the last 5 minutes.

Serve immediately with lime wedges, chopped onion, and cheese garnish. Or, refrigerate overnight for a true marriage of magnificent flavors.

*Recent studies show that consuming cinnamon each day can reduce blood sugar, cholesterol, and triglyceride levels by as much as 20% in Type II diabetes patients who are not taking insulin.
---
Tell a friend about this site.
Free Low Carb Recipes
Health Benefits of Common Foods
Blueberries
Cinnamon
Curry
Turmeric
Reduce Cholesterol with Food
Also, for a great selection of general recipes do visit Top 100 Recipe Sites
---