montefin's Leftover Leg Of Lamb Stew Recipe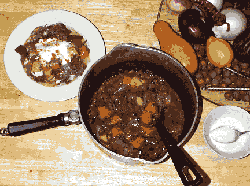 Ingredients
1 - Leftover Leg Of Lamb with about 2 lbs. of meat left
2 large stalks - Celery, cut into 1 1/2" lengths
2 - Turnips, peeled and diced the size of Vegas dice
1 large - White Onion
1 Tsp. - Fennel Seed
2 Tsps. - Cumin Seed
2 - Bay Leaves
2 - Carrots, cut into 1" lengths
2 - Green Peppers
10 - Garlic, peeled
2 Tbls. - Dried Basil
1 Tbls. - Lea & Perrin's Worcestershire Sauce
3 Dashes - McIllhenny's Tabasco® Sauce
1/2 Cup - Sour Cream
Feel free to , so you can easily return whenever you want to make this.
---
Remove the meat from the Leg Of Lamb. Cut the meat into 2 1/2" cubes, cover with clear wrap and refrigerate.

Set the bone in a pot containing 2 quarts of cold water. Add the Celery and Bay Leaves. Cut the top and bottom off the Onion and toss them in too. Put the pot on a low flame and simmer it for 1 hour. Do not cover the pot.

Remove and discard the bone and onion pieces, but leave the celery and bay leaves.

Add the Lamb chunks, the Fennel & Cumin seeds, the Turnips (the ones with the purple tops, not Rutabagas, the yellow ones), Carrots and Garlic cloves. Cut the Onion into eights and add to the pot. Simmer it all on low for 45 minutes.

Add the Green Pepper andWorcestershire Sauce and cook another 15 minutes.

Just before serving, dip out about 1/4 cup of the pot liquid, stir into the Sour Cream. Serve the stew out onto plates, top with dollops of the sour cream sauce and spritz the sour cream with Tabasco Sauce for color and zing.

Only 12 Carbohydrate grams per serving.

Tell a friend about this site.