montefin's Baked Monkfish
with Sea Scallops & Baby Lobster Tails Recipe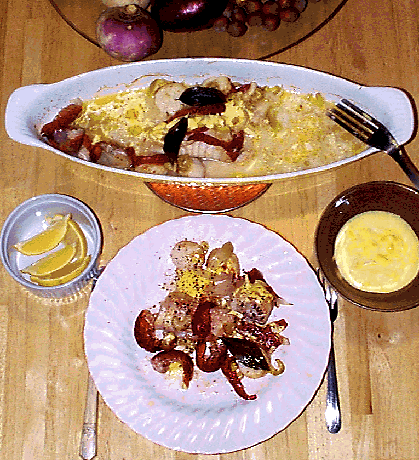 Ingredients
1 Cup - Sour Cream
1 Pinch, about 1/8 Tsp. - Spanish Saffron strands
1 lb. - Monkfish fillet
8 large - Sea Scallops
6 - Baby Lobster Tails
3 leaves- Fresh Bay
4 Tbls - Unsalted Butter
Generous Dusting - Fresh Ground White Pepper
1 large - Roasted Sweet Red Pepper, skin removed and cut into strips
1 large - White Onion, cut top to bottom like orange segments
Generous Drizzle - Seasame Oil
3 Tbls. - Freshly Grate Reggiano Parmesan Cheese
1 Large - Lemon, cut into 8 wedges
Feel free to , so you can easily return whenever you want to make this.
---
Prepare Most Wonderful™ Marbled Lemon Saffron Sauce ahead of time by stirring Saffron strands into 1/2 of the Sour Cream about 1 or 2 hours before you start to bake the fish. Refrigerate it.
Pre-heat oven to 325° F.
Butter an oval enameled baking dish. Drape the Monkfish Fillet lengthwise in baking dish and tuck 3 Sea Scallops on each side of the fillet like wagon wheels. Place the remaining 2 scallops at the front of the fillet. Fan the 6 Baby Lobster Tails at the other end. Cut the Butter into about 9 pats and dab them along the length of the monkfish. Dust the fillet with White Pepper. Lay Roasted Sweet Red Pepper strips along the length of the fillet. Top with crumbled White Onion segments. Drizzle Sesame Oil over everything. Toss in the Bay Leaves and cover tightly with Aluminium Foil.
Bake in preheated oven for 45 minutes. Remove Aluminium Foil. Grate Parmesan Cheese over everything and place, uncovered, 6" under broiler for 10 minutes or until cheese just starts to speckle pleasantly brown.
Once the fish is safely under the broiler, remove the sour cream and saffron mixture from the refrigerator and stir it thoroughly. It should have a nice warm, yellow color. Scrape it into two small, shallow dipping bowls. With a teasoon, swirl in the Remaining 1/2 Cup of Sour Cream just enough so the pure white and lovey dovey yellow form a marbled spiral. Squeeze the juice of one lemon wedge over each bowl of sauce and place them on the dinner table with a bowl of the Lemon Wedges on either side of each diner's dinner plate.
Remove the now bubbly baking dish from the broiler and place it on a trivet on the dinner table. Serve 1/2 of the monkfish to each plate, surround with scallops and lobster tails, then demonstrate how to take a forkful, dip it in the sauce and make love to your mouth.
Tell a friend about this site.