Recipe for Mussels Meuniere montefin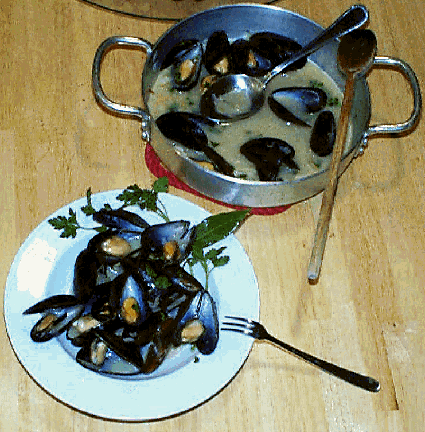 Ingredients
2Lbs. - Mussels
1/2 Cup - Dry White Wine, such as a good Muscadet
1 Cup - Clam Juice, bottled
1/2 Cup - Water
4 Tbls - Unsalted Butter
Bouquet Garnie (1 stalk each of Thyme, Italian Parsley, Rosemary, Fennel and a Bay Leaf tied together with string)
1 Tsp - Black pepper, freshly ground coarse
1 - Shallot, about the size of a small egg, peeled and coarsely chopped
1 Large Clove - Garlic, mashed and coarsely chopped
2 Tbls - Fresh Italian Parsley, chopped
Feel free to , so you can easily return whenever you want to make this.
---
Scrub and debeard the Mussels with a stiff brush or plastic mesh, discarding any that are not tightly closed.

Melt Butter in a large pan, add Shallot and Garlic and sauté just until soft but not colored.

Stir in Wine, Clam Juice and Water. Add Bouquet Garni and bring to a rolling boil. Let boil for 2 minutes then add the Black Pepper and Mussels.

Shake or stir the mussels vigorously over high heat until the shells open, then remove them to a large bowl with a slotted spoon, discarding any that have not opened.

Boil the liquid left in the pan until it is reduced by half, then return the mussels to the pan and heat through for 1 minute, shaking the pan constantly.

Sprinkle the mussels with the fresh, chopped Parsley, give the pan a few more good shakes to distribute the parsley and coat the mussels with the pan juices.

Mound the mussels in a large, deep, warmed serving bowl. Remove the bouquet garni.

Serve immediately with small seafood forks and soup spoons. Or, for the complete mussel experience do not set out forks or spoons. Show your dining partner how the aficionado eats mussels and imbibes their heavenly liquor. Use one mussel like a pair of mini tongs to remove another mussel from its shell. Pop the morsel into your mouth and use the now empty shell to eat the rest of your share. Pull off one of the larger shell tops and use it as your spoon to slurp the liquor.

Only 7 Carbohydrate grams per serving.

Tell a friend about this site.


Tell a friend about this site.