montefin's Mexican Chipotle Tinga of
Leftover Shredded Pork & Chicken Recipe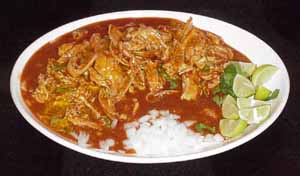 Ingredients
1 1/2 Lbs. leftover, cooked Pork and Chicken meat
1 - 16.9 Oz. Carton of Knorr's Chipotle Mexican Cooking Sauce. Look for it in Hispanic groceries or order online at www.mexgrocer.com.
1 Cup diced Onion
2 Serrano Chilis, chopped fine. I like to use red ones, but green's fine, too. Or go with both for Christmas-style.
1 generous handful of Fresh Cilantro leaves
4 Mexican or Key Limes, quartered.
Feel free to , so you can easily return whenever you want to make this.
---
This is a quick, easy recipe to turn ordinary leftovers into something spectacular. Don't look down your nose at the pre-packaged Knorr Chipotle Sauce. This has authentic flavor, color, and tingle on the tongue.

Use two forks to pull the leftover Pork and Chicken meat into shreds.

Heat the Chipotle sauce over medium heat for about five minutes, or microwave on high for 3 or 4 minutes. Add 1/2 of the chopped Onion to the hot sauce, along with all the shredded Pork and Chicken, and cook or microwave another 2 minutes. Stir in the fresh Cilantro leaves and cook 1 minute more.

You're done.

Plate it up, garnish with Limes and the remaining chopped Onions, and serve.

Less than 5 Carbohydrate grams per serving.

Tell a friend about this site.

Tell a friend about this site.