montefin's New Year's Eve Mixed Grill
of Filet Mignon, Jumbo Shrimp,
Sausage, Peppers & Onion Recipe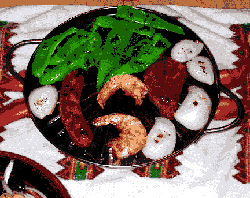 Ingredients
2 - 2" thick Filet Mignons
4 - Jumbo Shrimp or Prawns in shell
2 - Jalapeño Sausage, or other hot variety
2 - Bell Peppers
1 - White Onion
Feel free to , so you can easily return whenever you want to make this.
---
Use two of the round stove-top grills that are available at any kitchenware store. I like the heavy duty Anolon® one put out by Meyer®. They're pricey but have great, even heat transfer and make a retro-techno statement at the table.

Prepare the grills with water in the bases and preheat them on medium high for 10 minutes. Place 1 Sausage on each grill and turn the heat down to medium. Let the sausages cook, turning 4 to 6 times, for 10 minutes.

Meanwhile, cut the stem portions out of the Green Peppers and slice them vertically into about 10 spears. Cut the tops and bottoms off the White Onions and peel. Slice each onion in half vertically. Carefully separate the round onion layers.

When the sausages have cooked for 10 minutes, add the pepper spears and onion layers, half to each grill. Cook sausages, peppers and onions, turning occassionally, for another 5 minutes.

Add 1 Filet Mignon and 2 Shrimp to each grill and cook 5 minutes per side for rare, 8 minutes a side for medium or 10 minutes a side for well done. If you cook to well done, add the shrimp 3 or 4 minutes after the filets.

Set 2 sections of newspaper on your table and cover with decorative kitchen towels. Remove the grills from the stove, bring them to the table and place on the towels. That's it. Eat.

If you time this right, next year you can place your guest's grill beside their plate just at the stroke of midnight and steal the first kiss of the new millenium. Be sure to serve by candlelight just in case your power grid succumbs to the Y2K bug. Have fun.

I served 2 baked Yukon Gold potatoes (not shown) with this. They are really marvelous. Simply wash the potatoes, butter their jackets lightly and set in a 400° oven for 40 minutes. Halfway through baking, prick their tops a couple of times with a sharp tined fork to let out the steam. I served them with butter and sour cream.

About 9 Carbohydrate grams per serving without the potatoes. The potato adds about 21 grams.

Tell a friend about this site.


Tell a friend about this site.