montefin's favorite Pan-Baked
Peruvian Corvina Fillets Recipe
The few ingredients and simple cooking method of this dish showcase the sea-sweet flavor and almost custardy texture of Corvina.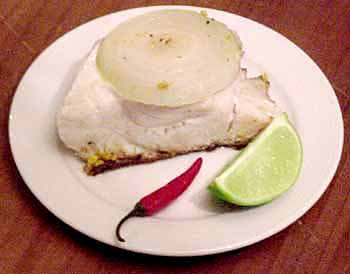 Ingredients
1 Lb. Corvina Fillets cut into 2 or 3 serving pieces
1/2 Tsp Butter
Juice of 1 Lime
1/4" Slices of Onion -- one for each serving piece
1 Red or Green Thai Chile per serving
1/2 Cup Olive Oil
Salt & Pepper to taste
Feel free to , so you can easily return here.
---
Heat a wide pan or skillet over medium heat on the stove.

Pat bottom of each Corvina Fillet dry and rub it with butter.

Add the fillets to the pan and don't lift, shift, or move until done.

As the Corvina cooks, place an onion slice atop each piece, pour the lime juice over the fish and then the Olive Oil,

Cover the pan, lower the heat, and cook for 7 minutes.

Less than 1 Carbohydrate gram per serving.

Tell a friend about this site.