"What a fruit that nectarine!
It's not a peach. It's not a plum.
It's something in-between."
-- Mel Brooks
montefin's Pork & Mango Curry Kabobs Recipe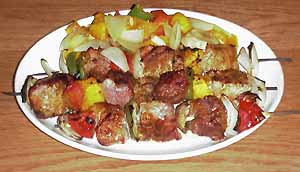 Ingredients
1 1/2 Lb. - Boneless Country Style Pork Ribs
4 Tbls - McCormick Hot Madras Curry Powder (or your favorite)
1 Large Clove - Garlic
1 Cup - not quite ripe Mango, peeled and cut into 1" chunks. (substitue chunks of nectarine if mangoes are not available).
1 - Large Onion
1 - Large Tomatoes
1 - Large Mushrooms
1 - Jalapeno Chiles
3 - Bamboo Skewers
Feel free to , so you can easily return here.
---
Soak the Skewers in water for at least 5 minutes so they won't burn on the grill. Start the grill -- charcoal, gas, or electric.

Cut the Pork into 1 1/2" cubes, Slice and peel the Mango into 1" chunks. Quarter the Onion and separate into two-layer pieces. Quarter the Tomatoes, Mushrooms, and Jalapenos. Place the Pork, Onion, Tomato, Jalapeno, and Mushroom pieces and toss with the Curry Powder.

Run eack skewer through the garlic clove, and rub their length with the curry powder from the bowl.

Make the kabobs, skewering onion, pork, mango, pork, mushroom,pork, tomato,pork, onion. Start and finish each kabob with onion cupping each end.

Use all the pork, but if there's left over mango, onion, tomato, mushroom, jalapeno microwave it on high for 3 minutes. Or, wrap it in heavy duty aluminum foil and toss it onto the grill with the kabobs.

Place kabobs on the hot grill, and turn them 2 minutes on each of the 4 sides. You might want to check a few of the larger pieces of pork with an instant read thermometer to see that they're at least 150 degrees.

Serve.

Less than 18 Carbohydrate grams per serving.

Tell a friend about this site.
Additional Health Benefit:
Curry -- Studies find turmeric, one of the main ingredients in curry, may slow, even reverse, the progress of Alzheimer's Disease.