Filipino Pinoy
Chicken Tinola Recipe
A montefin Favorite Recipe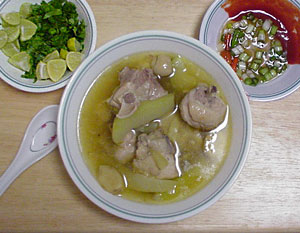 Serves 4
Ingredients
1 - 3 to 4 Lbs. Chicken, chopped into 16 pieces
3 large cloves - Garlic, sliced thick
1 large - Yellow Onion, chopped large
5" piece of Ginger, peeled and cut into thick chunks
2 - Chayotes, peeled, white core removed, and sliced top to bottom into 1/2" wedges
3 Tbls - Canola Oil
1 stalk - Lemon Grass, roughed up with the back of a knife enough to release the aroma and flavor but not so much to make it difficult to remove before serving.
2 Tbls - Fish Sauce (Filipino Patis, or my favorite 1/2 Vietnamese Phu Quoc Fish Sauce and 1/2 Golden Mountain Seasoning Sauce)

Garnish Ingredients

5 - Green Onions - white and green parts chopped separately
5 - Red and Green Thai Chilis - coarsely mashed to release flavors
5 Tbls - Cilantro, snipped with scissors
3 Tbls - Fish Sauce (see above)
Red Chili Sauce
4 - Limes, quartered.
Feel free to , so you can easily return whenever you want to make this.
---
Add Canola Oil to a heated 5 quart sauce pan. Saute Garlic and Ginger for 1 minute, then add chopped Yellow Onion and saute 1 minute more. Add all the Chicken pieces, lower heat, and cook 5 minutes more, stirring to coat chicken pieces with the pot flavors. Add the Fish Sauce (Note: do not add any salt, the fish sauce takes care of that).

Add 5 cups hot water to the pot, bring to a simmer. Add the Lemon Grass and Chayote wedges. Cover and simmer for at least 1 hour over low heat or as much as 2 to 3 hours for chicken that falls of the bone.

While the Tinola is simmering, prepare the garnishes by combining the Limes, chopped Cilantro, and chopped greens from the Green Onions in small bowls, and the mashed Thai Chilis, Fish Sauce, and white portions of the Green Onions. Serve the Red Chili sauce separately or paint it on the side of the chili garnish bowls as show above.

Just before serving raise the heat under the Tinola pot and remove the Lemon Grass. Serve piping hot in bowls with garnish.

Only 8 Carbohydrate grams per serving.

Tell a friend about this site.