Blueberries Protect Your Brain From Stroke Damage
---
Cinnamon Can Reduce Cholesterol, Help Diabetes
---
Curry Spice Turmeric May Slow, Reverse Alzheimer's
---
montefin's Favorite:
Almond Studded
Baked Holiday Ham Recipe
You bakes cakes. You roasts meats.
Excepts if it's Hams. -- Billy Reuben, 2001
This recipe was reverse engineered from Mom's countless, melt-in-your-mouth, Holiday hams. To this day it remains my favorite way to infuse the delicate flavor of ginger throughout the meat while keeping it moist -- with just the right toothsomeness.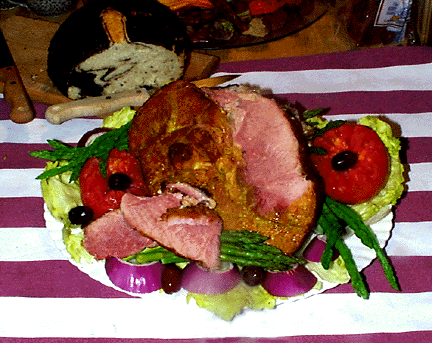 Ingredients
5-7 Lbs. - Half Ham (I prefer the butt portion)
2 Liters - Diet Canada Dry® Ginger Ale
2 -3 Dozen- Blue Diamond® Smokehouse® Almonds
2 Bunchs- Asparagus
1/2 Cup - Dijon Mustard (I used Grey Poupon®)
2 Tsp. - Wasabi
2 Tsp. - Horseradish
1 Tsp. - Dried Dill Weed
1/2 Tsp. - Ground Celery Seed
3 - 4 Large - Tomatoes
Kalamata Olives for garnish
Feel free to , so you can easily return whenever you want to make this.
---
Soak the Ham for 2 hours in a cold, large kettle barely covered with Ginger Ale. Bring to a boil then lower to a gentle simmer for 2 hours more.

Preheat oven to 325° F.

Remove ham from liquid. Place flat side down on a rack in a baking pan and with a slim, sharp knife pierce the ham all over about1/2 " deep and slip an Almond in each hole. Cover with aluminium foil and bake in the oven for 1 hour.

Make a paste of the Mustard, Wasabi, Horseradish, Dill Weed, and Ground Celery Seed. Remove the foil from the ham, turn it on its side and brush all over with the mustard paste. Turn oven up to 400° F., and bake uncovered just until the mustard has a nice Eastery crust and the fat has turned a rich brown to barely black in places.

Remove Ham from oven and let rest for 15 minutes before carving. Meanwhile, microwave (on medium - 50%) the Asparagus and Tomatoes in a covered glass dish with 3 Tbls of water for 6 minutes, then 2 minutes more on 100% setting,

Serve the ham, asparagus and tomatoes on a bed of lettuce garnished with the Kalamata Olives.

Less than 18 Carbohydrate grams per serving .

Tell a friend about this site.


Free Low Carb Recipes
Health Benefits of Common Foods
Blueberries
Cinnamon
Curry
Turmeric
Reduce Cholesterol with Food
Also, for a great selection of general recipes do visit Top 100 Recipe Sites
---