"If you can't afford tender steaks,
at least sharpen your knives."
-- montefin, 1998
montefin's Broiled Cinnamon Porterhouse Steaks Recipe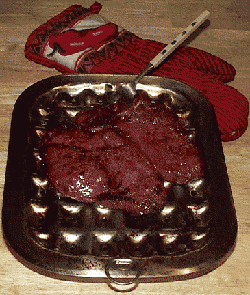 Ingredients
2 - 1 Lb. Porterhouse Steaks
1/3 Cup - Ground Cinnamon
3 Tbls - Garlic Powder
1/2 Tsp - Cayenne Pepper, or to taste
Feel free to , so you can easily return whenever you want to make this.
---
Mix the Cinnamon, Garlic powder and Cayenne pepper thoroughly and spread on large plate.

Press both sides of both Steaks into the cinnamon mix like you would into flour or bread crumbs. Don't worry about too thick a coat. You'll be amazed what the broiler will do to the flavors and the coating (see the picture above).

Let the steaks sit for about a half an hour.

Pre-heat broiler to 500° F. or higher if you have a commercial stove.

Place steaks on broiler pan and set 6" under broiler unit. Broil 5 minutes each side, less if you've set broiler temperature higher.

Serve immediately. It's an entirely new flavor for beef. I love it!

Less than 2 Carbohydrate grams per serving.

Tell a friend about this site.