Boiled Ham Shanks
with Chayote, Cabbage & Eggs Recipe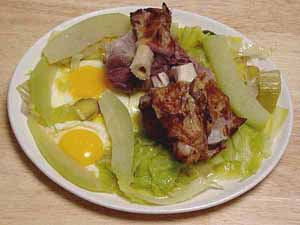 Ingredients
4 Ham Shanks
4 Jumbo Eggs
3 large stalks - Celery, cut into 2" sections
3" piece of Ginger, peeled and cut into thick chunks
2 - Chayotes, peeled, white core removed, and sliced top to bottom into 1/2" wedges
1/2 - small Cabbage, sliced top to bottom into 1/2" wedges
2 Tbls - Butter
Feel free to , so you can easily return whenever you want to make this.
---
Cover Ham Shanks, Garlic, and Ginger with water in a 5 quart sauce pan. Bring to a boil, lower heat and simmer for 30 minutes. Add Chayote wedges and simmer for 30 minutes more.

Add Cabbage and simmer for 10 minutes more.

Fry Eggs in Butter.

Plate Eggs first, add Shanks, and dress with Chayote, Celery, Ginger, and Cabbage wedges, and serve.

Only 8 Carbohydrate grams per serving.

Tell a friend about this site.