Mint Pistachio Pudding
with Stevia Whipped Cream
and a Cherry on Top Recipe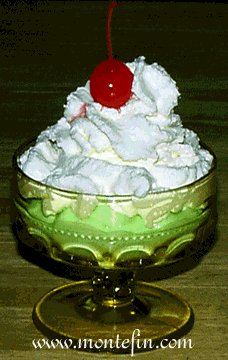 Makes 4 - 1/2 Cup Servings.
Ingredients
1 oz. Package - Jello® Fat Free, Sugar Free, Instant Pistachio Pudding Mix
1/2 Tsp. - Schilling®'s Mint Extract (Spearmint & Peppermint)
1 Pint - Cold Half & Half
1 Cup - Heavy Cream
1/4 Tsp. - Stevia Powder Extract
A dusting of Ground Saigon Cinnamon
1/8 Tsp - Vanilla extract
4 - Maraschino Cherries with stems
Feel free to , so you can easily return whenever you want to make this.
---
Empty Pistachio Pudding Mix into a mixing bowl. Add Mint and Half & Half. Beat with an electric hand mixer on lowest setting for 2 minutes. Mix another 1/2 minute on high setting if you like your pudding moussey like I do.
Pour into four pudding dishes and refrigerate. Pudding will be set enough to serve within 5 minutes, or leave in refrigerator until ready to serve.
Pour Heavy Cream into mixing bowl. Add Stevia Powder and Vanilla, then whip until stiff. I use an NO2 Whipped Cream Maker, which is my daughters' favorite kitchen untensil.
When ready to serve, sprinkle the top of the pudding with Cinnamon, cover with whipped cream, and top with a Maraschino Cherry.
A nice set of pudding dishes is a great investment. I got a set of four of the dishes pictured here at Goodwill for just $2.50 each.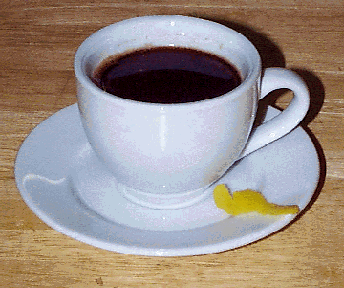 Now doesn't a nice cup of Espresso Romano make just the right tangy accompaniment for this, one of the quickest, simplest, most elegant desserts I know?

Only 10 Carbohydrate grams per serving.

Tell a friend about this site.