Swimming upstream. I just don't get it.
-- montefin, 2005
montefin's Grilled Salmon Turmeric Recipe
Crisp, golden crust outside -- moist, pink, and tender inside -- with natural omega 3 and curcumin antioxidants.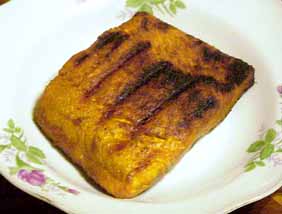 Ingredients
2 - 1/2 Lb. fillets of Salmon
3 Tbls - Turmeric Powder
2 Tbls -- Extra Virgin Olive Oil
Feel free to , so you can easily return here.
---
The night before, place each Salmon fillet skin side down on clear plastic wrap. Dust thoroughly with Turmeric. Wrap each fillet tightly, massaging the turmeric into the flesh while wrapping. Refrigerate overnight.

To cook, heat the gas, charcoal, or electric grill. Unwrap the fillets. Drizzle Extra Virgin Olive Oil over all surfaces and massage in.

Toss fillets onto hot grill skin side down. Grill 1-1/2 minutes. Flip and grill for another 1-1/2 minutes flesh side down.

Remove to plates and serve. Exterior will be bright crusty gold with dark grill marks -- moist and delicate inside with a subtle dill-like flavor imparted by the Turmeric.

Less than 1 Carbohydrate grams per serving.

Tell a friend about this site.
Additional Health Benefit:
Studies find Turmeric may help to slow, even reverse, the progress of Alzheimer's Disease.