montefin's Italian Chicken Salad,
Pollo Forte Recipe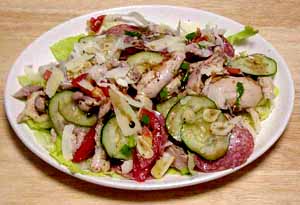 Ingredients
1 - 3 to 4 Lbs. Whole Chicken
4 Tbs. - Extra Virgin Olive Oil
3 large cloves - Garlic, sliced thin along long axis
2 large leaves - fresh Basil, rolled together, stem to tip, and sliced side-to-side into ribbons (called chiffonade). This makes it easy to exclude the woody central vein.
2 to 3 anchovy fillets - (Note: add no additional salt.)
1 head - Lettuce, broken into small pieces
2 - Plum Tomatoes
1 - approx. 4" pickling Cucumber (available in Asian markets), unpeeled and sliced thin
40 thin slices of dry Italian Salami (Sopressetta, Genoa, Italian Dry Salame, Pepperoni, or a mix.)
Shaved Parmigiano-Reggiano Cheese
2 to 3 - Spritzes of Balsamic Vinegar
Feel free to , so you can easily return whenever you want to make this.
---
Cover Chicken with cold water in a large pot. Bring to a bare simmer and poach for 1 hour.

Remove chicken from pot to a large bowl, and cover with cold water to stop cooking and firm.

Remove skin and bones by hand. Gently separate meat into bite sized pieces. Strain chicken and place in a dry bowl.

Meanwhile, mash Anchovy Fillets and crushed Garlic into Extra Virgin Olive Oil, and stir in Basil ribbons.

While chicken pieces are still slightly warm, add olive oil mixture, and toss with the Lettuce pieces, Tomato wedges,Cucumber and Salami slices.

Top with Shaved Parmigiano Reggiano, spritz with Balsamic Vinegar, and serve.

About 5 Carbohydrate grams per serving.

Tell a friend about this site.