montefin's Microwave Kielbasa
Polish Sausage Recipe
This quick, inexpensive sausage recipe makes a hearty main course for two, or, when sliced and toothpicked, eye catching appetizers for a small party.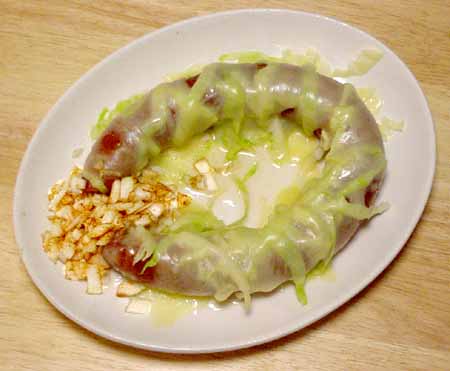 Ingredients
1 lb - Kielbasa (Polish) Sausage
1/2 Cup - Green Cabbage, shredded
1 Tsp - Cider Vinegar
3 Tbls - Water
5 slices - Swiss Cheese
1/2 Cup - Onion, minced
generous pinch, Kosher Salt
Hot Paprika, to taste
Mustard
Feel free to , so you can easily return whenever you want to make this.
---
In a small microwaveable bowl, combine the shredded Cabbage, Vinegar, and Water. Microwave uncovered on high for 1 minute. Remove from microwave oven, drain, and set aside.

Place Kielbasa Sausage on microwaveable serving plate, and microwave on high for 3 minutes.

While sausage is cooking, mix minced Onion with Kosher Salt, and Paprika in a small bowl.

Remove sausage from microwave oven, garnish with cabbage shreds, and drape Swiss Cheese slices on top of that. Put sausage back in microwave oven and cook for 1 minute more -- or until the cheese has melted nicely.

Take sausage out of the microwave, garnish with the paprika'ed onion, and serve immediately with lots of mustard.

About 4 Carbohydrate grams per serving.

Tell a friend about this site.