montefin's No-Bread
Meatballs Appetizers Recipe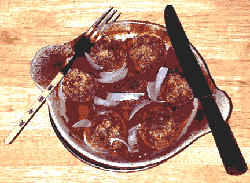 Ingredients
1 lb - Ground Beef
1 Tsp - coarse Salt
1 Tsp - Freshly Ground Black Pepper
1 Tbls - Fresh Sage, minced
1 Tbls - Fresh Basil, minced
2 - Eggs
1/2 Cup - Crisp Pork Rinds (Chicharrones), crushed with a mortar and pestle to the size of bread crumbs
3 Tbls - Canola Oil
1 - White Onion, sliced vertically
Feel free to , so you can easily return whenever you want to make this.
---
These meatballs far surpassed in taste, texture and tenacity of shape any breaded or floured meatballs I've ever made or had.

In a large bowl, mix the Beef, Salt, Pepper, Sage and Basil. Let the mixture sit in the refrigerator for about half an hour to blend the flavors.

When ready to sauté, break one of the Eggs into the meat mixture and mix in thoroughly with your hands. Form the meat into balls. Break the other Egg into a shallow plate and beat lightly with a fork. Spread the crushed Pork Rind crumbs on another plate. First roll each meatball in the egg, then in the pork rind crumbs and set aside on paper towels to dry for about 15 minutes.

Heat the Canola Oil in a skillet and sauté the meatballs over medium high heat until they are golden brown, about 10 to 15 minutes. Remove the meatballs with a slotted spoon onto paper towls to drain then place in two shallow, broiler-proof dishes, surround with Onion slices, run under the broiler for 5 minutes and serve immediately.

Black Bean Chocolate Sauce

Dipping Sauce

About 5 Carbohydrate grams per serving.

Tell a friend about this site.