Blueberries Protect Your Brain From Stroke Damage
---
Cinnamon Can Reduce Cholesterol, Help Diabetes
---
Curry Spice Turmeric May Slow, Reverse Alzheimer's
---
montefin's Italian Antipasto
Salad Platter Recipe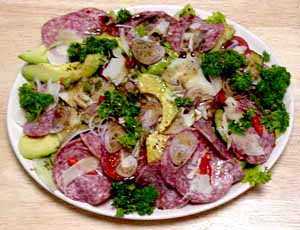 Ingredients
2 - Plum Tomatoes, wedged
1 - approx. 4" pickling Cucumber (available in Asian markets), unpeeled and sliced thin
40 - thin slices of Italian Salami (Sopressetta, Genoa, Italian Dry Salame, Pepperoni, or a mix.)
3 - small Red Hot Chile Peppers sliced lengthwise, or red pepper flakes
3 - small Shallots, sliced
2 - large cloves Garlic, sliced thin along long axis
2 - large Avocados, wedged
1/2 head - Lettuce, broken into small pieces
8 or 9 snips of fresh Parsley
Shaved Parmigiano-Reggiano Cheese
4 Tbs. - Extra Virgin Olive Oil
2 to 3 - Spritzes of Balsamic Vinegar
Feel free to , so you can easily return whenever you want to make this.
---
Layer ingredients staring with Lettuce, Tomato & Avocado wedges, Shallots, Garlic, and Parsley onto a chilled platter. Sprinkle shaved Parmigiano-Reggiano on top. Squirt on Extra Virgin Olive Oil. Spritz with Balsamic Vinegar.

Serve.

About 5 Carbohydrate grams per serving.

Tell a friend about this site.


Free Low Carb Recipes
Appetizers
Avocado Shrimp Salad
Deviled Salmon Ham Rolls
Vietnamese Meatballs
Italian Antipasto Appetizer
Brand Name Shrimp Cocktail
No-Bread Breaded Meatball
Deviled Eggs
Main Dishes
Bison Meat Buffalo Burgers
Peruvian Corvina
Blackened Ahi Tuna Chipotle
Microwave Kielbasa Sausage
Italian Veal Piccata
Mexican Pork Carnitas
w/Cotija Chile Rellenos
Italian Turkey Cacciatore
Italian Chicken Salad
Pollo Forte
Boiled Ham Shanks, Eggs, Chayote & Cabbage
Filipino Pinoy Chicken Tinola
Italian Sausage, Peppers, Onions
Grilled Salmon Turmeric
Curry Pork Mango Kabobs
Pork Chicken Chipotle Tinga
Beef & Black Bean Chili
Mexican Turkey Mole Poblano
Chicken Breasts with Mustard & Cranberry Sauce
Chicken Romano w/Tiny Peas
Sirloin Tips w/Red Peppers
Greek Lamb Chops w/ Tzatziki
Veal Saltimbocca
Roast Duckling
Baked Monkfish w/Sea Scallops & Baby Lobster Tails
Butterflied Leg Of Lamb
Leftover Leg Of Lamb Stew
Cornish Game Hens w/Mustard Crust
Oven Roasted Beef Ribs w/Dry Rub
Broiled Cinnamon Steaks
Baked Holiday Ham
Mussels Meuniere montefin
Baked Almond, Thyme & Ginger Pork Chops
Mexican Barbacoa À La Bandera
Roast Christmas Goose
New Year's Eve Mixed Grill
St. Patrick's Day Corned Beef & Cabbage
Desserts
European Cheese Board
Quick Mint Pistachio Pudding w/Stevia Whipped Cream
Blueberries in Non-dairy Topping
Snacks
Buffalo Wings, Meatballs & Tilapia
German Strammer Max
Mexican Quesadilla,
(Cheese Crisp or Mexican Pizza)
Health Benefits of Common Foods
Blueberries
Cinnamon
Curry
Turmeric
Reduce Cholesterol with Food
Also, for a great selection of general recipes do visit Top 100 Recipe Sites