montefin's favorite
Blackened Ahi
Tuna Steaks Chipotle Recipe
This ahi tuna fish recipe develops its tantalizing smoked flavor from the already smokey ground chipotle chile powder, so you don't have to scorch the hell out it. The medium cooking heat also smoothes and rounds out this chile's full spectrum spiciness.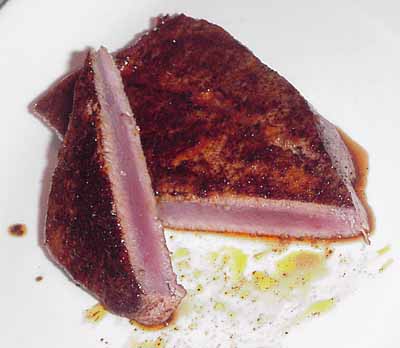 Below is exactly how I prepared this marvelous fish dish the first time out of the tube -- nothing added, nothing taken away -- because I can't conceive of a single change that could bring out the fresh, clean, glorious flavor of Ahi Tuna any better.
Ingredients
2 - 1/2 Lb. - 1 1/2" thick sushi grade Ahi Tuna Steaks - the more velvety in color and texture the better.
3 - 4 Tbls - Chipotle powder (I use Spice Islands).
2 Tbls -- 100% Canola Oil
Coarse Salt to taste
Feel free to , so you can easily return here.
---
Spread Chipotle Powder on a plate and press both top and bottom of each Ahi Tuna steak into the ground dried powder.

Heat a wide, low pan or skillet over medium heat.

Add the Canola Oil to pan and swirl it around to cover the pan bottom. Immediately lay in each steak and let them sizzle slightly. They will develop a nice crust in about 2 minutes.

Just before turning, season the top of each steak with a sprinkle of Coarse Salt,

Gently turn each steak. It helps to use tongs, gripping the steaks by their sides. Tip: holding the tongs starting with your palm facing up makes for a neater flip.

Let steaks sizzle another 2 to 3 minutes depending on how rare you like the middle.

Remove to warm plates keeping the side of the steaks that you salted on the bottom. Serve immediately.

I found that the slight juices that collected on the plate beneath each steak tasted as good as, if not better than, the steaks themselves!

Less than 1 Carbohydrate gram per serving.

Tell a friend about this site.