How montefin
Lowered His Cholesterol
w/Diet, Walking & Cinnamon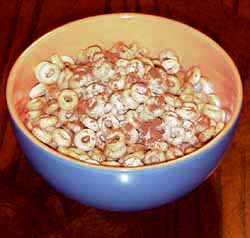 Feel free to Tell a friend about this article..
Below are montefin's actual lab results showing significantly lower Total Cholesterol, lower LDL Cholesterol, higher HDL Cholesterol, and lower Triglyceride fasting blood levels achieved naturally, through food and exercise:
Total Cholesterol (Optimal Range 130 to 200 mg/dl):
Before - 253, After - 204 -- Lowered by 19.4%


LDL (Bad) Cholesterol (Optimal Range 60 to 130 mg/dl):
Before - 163, After - 151 -- Lowered by 7.4%


HDL (Good) Cholesterol (Optimal Range 40+):
Before - 26, After - 35 -- Raised by 34.6%


Triglycerides (Optimal Range 30 to 150):
Before - 322, After - 92 -- Lowered by 71.4%
Source: VA Hospital fasting blood tests August 2004 and September 2005.
Not quite out-of-the-woods yet, but it elicited a "Whatever you've been doing, keep doing it," from my doctor, who'd originally cautioned me that diet alone could only affect cholesterol by 10% max. I think the 71% drop in Triglycerdies impressed her the most.
Basically what I did, for a year, was modify my regular low carb Atkins maintenance regimen to fit more into the South Beach diet, adding daily servings of fresh or frozen whole fruit -- particularly mangoes, blueberries, persimmons, and oranges, plus whole grains -- mainly Cheerios in 2% or fat free milk with a sprinkling of 1/2 teaspoon of ground cinnamon once, sometimes twice a day.
For exercise, I walked -- 1.5 to 2.5 mph -- for 30 minutes or more, at least 5 days a week -- every week. It's the easiest, gentlest, most convenient exercise going.
Now, this is only one individual's experience so don't take it as Gospel. And remember, this was a combination of food and exercise, although if you pressed me, I'd give most of the credit to the cinnamon!
For more about cinnamon visit montefin's FoodFacts glossary
Free Recipes with Cinnamon
Broiled Cinnamon Steaks
Beef & Black Bean Chili
Mexican Barbacoa À La Bandera
Mexican Turkey Molé Poblano
Mint Pistachio Pudding
Health Benefits of Common Foods
Blueberries
Cinnamon
Curry
Turmeric
Also, for a great selection of general recipes do visit Top 100 Recipe Sites .