Pages: 1 | 2 | Previous Page
Modified Low Carb Dieting.
Zen can help.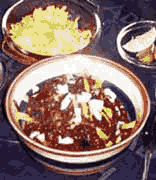 Three years ago, I quit smoking.
At first, I used carbohydrates to feed my nicotine cravings. Bad idea.
A year later, I was smoke free, but overweight again. I went back on the Atkins Diet Induction Phase, but my body was slow to respond, As a matter of fact. I knew I was in ketosis because my ketostix were good and purple, but I lost neither pounds nor inches.
Zen helped me see that wanting to choose between food and cigarettes was a false choice -- a trap I'd fallen into before. It also reminded me of the power of mantra. Whenever a carb craving would hit, I'd say "Just lose the weight. Just...lose...the...weight." That simple rubric became my way of resetting the Auto Pilot. I could eat myself thin!
At the same time, my doctor wanted me to eat a more balanced diet, in particular, adding more fruits, non-starchy vegetables, and fiber rich foods to help reduce cholesterol. Slowly, I modified my Atkins recipes closer to the South Beach Diet, and the Zone Diet. I began to see weight results right away. I lost 17 pounds within the first 6 weeks and discovered the gigantic green mangoes that come up out of Mexico in mid-September!
Even better, I was able to reduce total cholesterol, and reduce triglycerides dramatically with just diet, walking, and daily intake of cinnamon.
"Life's a buffet. Deal with it." -- montefin, 2004
Unless you intend to live in a low carb bubble, you have to be able to eat with, and prepare meals for others who may or may not follow a low carb lifestyle. You should know about low carb friendly restaurants that give you lots of good low carb choices. You need to see that you're in charge of your weight loss. It's more building new habits than deprivation and self denial.
Sensible Eating On the South Beach Diet, Atkins Diet & Zone Diet
We don't strictly adhere to any one weight loss program -- not just the South Beach Diet-- just the Zone Diet -- just the Atkins Diet-- nor just Sugar Busters, Weight Watchers, etc., etc., etc. diets.
These recipes are designed to work with all of today's popular diets where success is based on limiting or targeting the level of carbohydrates ingested and/or the speed those carbs impact blood sugar levels -- in effect, helping you feel satisfied sooner and longer.
The overall goal is give you recipes that will keep you interested so you can reduce weight, reduce total cholesterol, reduce LDL cholesterol, reduce Triglycerides, and increase HDL "the good cholesterol".
We do try to stay abreast of the news and the science of food. So, along with the recipes, you'll see links to a continuously updated online resource simply called FoodFacts. Use them, but try not to let them get in the way of your preparing and enjoying the recipes. In the end, your enjoyment is what will shed unwanted pounds and help you keep them off.
The recipes and images posted on this site are free for you to prepare at home or share with friends. They may not be used for commercial purposes unless permission is obtained in advance from montefin™ Enterprises.
If you would like to know when we add new recipes join our free Yahoo! Recipes Group at the bottom of this page.
Thanks, and hearty, healthy eating to all!
Pages: 1 | 2 | Previous Page