montefin's THAT SPANISH WOMAN!
I was exhibiting at the Washington Square Outdoor Art Exhibit* next to a young woman named Jill. Jill worked in oils and most of my work was in acrylics, which she gently and charmingly disdained.
I went home one night and painted this in acrylics using washes and quick drying glazes to get the look, if not the smell, of an oil painting. The next morning, I showed her "That Spanish Woman!", telling her I'd painted it overnight.
When she saw my thumbs on the canvas she schreeched and told me I was smearing the pigments. I told her not to worry; it was an acrylic. She was silent for a minute, watching me hang it on the wall of the building. Then she commented, "It's well drawn."
By the way, this lady seems to change her mood throughout the day and night. And every lady I've been involved with since wants to know who the model was. Women! Go figure.
Status: still in painters personal collection.
If you'd like to join montefin's Pottery Yahoo! Group click here or sign up below. If you enjoyed this pottery please sign our guestbook

*The Washington Square Outdoor Art Exhibit is one of the oldest juried art shows in New York City. Artists who exhibit are among those who's work you can view in museums and galleries around the world. The exhibit started in depression-era 1931 and many of the struggling young artists who participated in the early years went on to become household names. Springtime in NYC, Greenwich Village, outdoor art -- you can't do much better than that.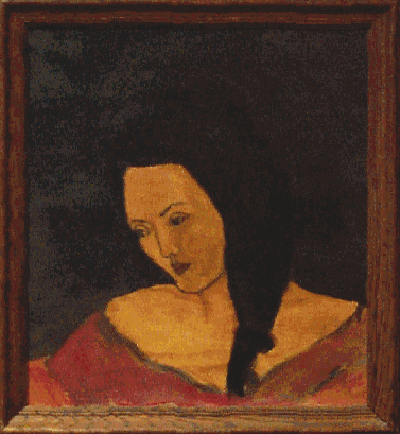 ©1996-2005 montefin Enterprises - Home - About Us - Privacy Policy - Terms of Service - Contact Us - Webmaster
montefin, Tip O' The Ice Cube and Most Wonderful are trademarks of montefin™ Enterprises.